Award-winning nurse wins top prize
Local Practice Nurse wins at prestigious award ceremony and is recognised for her efforts and the contributions that she has made to her GP practice and patients.
Lucy Sadler, Nurse Manager at Market Surgery, Aylsham has won Nurse of the Year from Royal College of General Practitioners (RCGP) for her hard work for COVID-19 vaccination programme at the practice. She also received much positive feedback from local patients who attend the practice.
RCGP awards aims to recognise the excellence, the efforts and the contributions that have been made to general practice.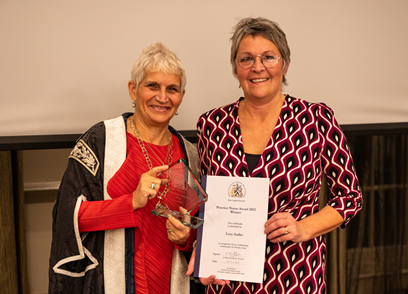 Lucy was nominated by her Practice Manager; Rachel Clarke who said:
"Lucy joined us as Practice nurse, and she quickly became seen as a natural leader. She is highly motivated and seamlessly leads her team with a wealth of experience.
"During the global pandemic, she proactively organised and managed the team to co-ordinate the extra responsibilities for her and the surgery. She worked incredibly hard to deliver an exceptional service for our patients effectively.
"She deserved to be nominated because of her constant motivation and dedication during one of our most challenging times. We are all incredibly proud of her and we think she thoroughly deserves this award."
Lucy Sadler, Nurse Manager said:
"I felt quite overwhelmed and humbled to win such an award and especially by my colleagues' lovely nominations which I knew nothing about!!
I feel privileged to work as part of such a dedicated and friendly team at The Market Surgery and feel I cannot have achieved this without them too.
"Our whole surgery always strives to go above and beyond in all areas for our patients which goes a long way towards giving me great job satisfaction.
"We know this winter is going to be a challenge for many people but ensuring that we all do our bit is important. If you are invited to have your vaccination, please make sure you get it done."
Practices across Norfolk and Waveney continue to vaccinate local people with the COVID-19 Autumn booster to protect them over the winter months.
Vaccinations continue to be the best form of protection from severe illness from Covid-19. Anyone eligible is encouraged to walk-in or book an appointment for their autumn booster via www.nhs.uk/covidvaccine or by calling 119. Primary 1st and 2nd vaccines also remain available. Anybody who is immunosuppressed, is invited to walk into any of our centres for their booster, bringing with them a letter to confirm their status from an NHS professional.
We know that our busy clinics are not suitable for everyone, and we are inviting those who require our accessible clinics which take place at James Paget University Hospital and can be booked by calling 01493 453 930.