Lung cancer is frequently diagnosed later than other cancers because often there are no signs or symptoms at an early stage. The Targeted Lung Health Check Programme is a new NHS pilot scheme designed to identify signs of cancer at an early stage when it is much more treatable – ultimately saving lives. 
This is a national NHS programme and in Norfolk and Waveney it is currently being offered as a pilot in Great Yarmouth and Lowestoft only. If it is successful then it will be gradually rolled out to the rest of Norfolk and Waveney.
The programme is being offered to people between the ages of 55 and 74 who are current or former smokers and at greater risk of lung cancer. Those eligible will be contacted by the NHS to invite them for a Lung Health Check.
The Lung Heath Check finds out how well someone's lungs are working and hopes to identify problems early. Most of the time no issue is found, but if cancer or an issue with a participant's breathing or lungs is found early, treatment could be simpler and more successful.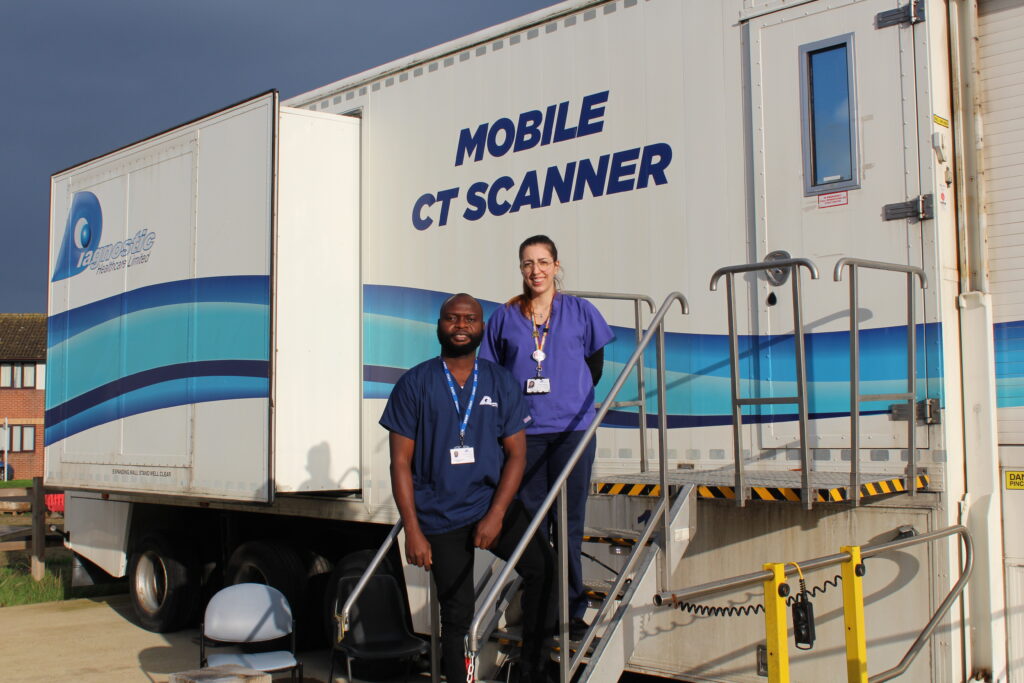 What happens during the check?
There are two main stages to a Targeted Lung Health Check. The first is an initial assessment with a health professional and the second, if necessary, is a simple scan of the lungs.
Initial assessment
If you are eligible, you will receive a letter or text message inviting you for an initial Lung Health Check.
The initial assessment will take place over the phone and/or meeting with a health professional.
During the initial Lung Health Check, you will be asked some questions about your breathing, overall lung health, lifestyle and family and medical history. An assessment will be made at this appointment of your risk of Lung Cancer based on your answers.
There are three possible results from your lung health check:
No problems found – the health professional may find nothing further to investigate and you will be discharged from the lung health check programme. We will write to your GP to tell them this.
Referral to your GP – if problems with your breathing or lung health are found, you might be referred to your GP. The team will write to your GP so they know about the outcome.
Offered a scan of your lungs – It you are assessed to be at higher risk of lung cancer now or in the future you will be offered a scan of your lungs (a Low Dose CT scan). The specialist nurse will help you to choose whether the test is right for you. We will write to your GP so they know about the appointment.
Lung scan
The lung cancer scan uses a low-dose CT scanner to take a detailed picture of your lungs, to check for the early signs of lung cancer.
The appointment will last approximately 30 minutes and you'll have a chance to ask the team at the scanner any questions. The scan is completely painless and you will only be on the scanner for a few minutes.
If your scan results come back with signs of anything of concern, you'll be contacted with further information and referred for further tests and treatment.
The lung scan will take place at the James Paget Hospital in Great Yarmouth.
Frequently Asked Questions
Book your check
You will be contacted by the NHS if you're eligible for a lung health check.
If you have been invited for a check and need to contact the team, please use the below contact details.
Support to stop smoking
Smokefree Norfolk provides stop smoking information and support for people living in Norfolk. Call 0800 0854 113, email: stopsmoking@ecchcic.nhs.uk or visit their website.
Feel Good Suffolk provides information and support to stop smoking for people living in Suffolk.
Resources
Download our Lowestoft leaflet in English.