Norfolk and Waveney Mental Health Co-production Strategy
Better mental health outcomes for the people of Norfolk and Waveney will happen when services meet needs in the most effective ways possible. To do this lived experience of care and support needs to be valued equally to other expertise in the Integrated Care System.
Coproducing mental health care and support in Norfolk and Waveney will help us reach our goals as an Integrated Care System. These goals are:
• To ensure people can live as healthy a life as possible.
• To ensure people only have to tell their story once.
• To make Norfolk and Waveney the best place to work in health & care.
Rethink Mental Illness' coproduction team have been supporting the Adult Mental Health Transformation. Rethink are a national charity facilitating coproduction in a number of Integrated Care Systems across England. They are facilitating the coproduction of a draft strategy on behalf of NHS Norfolk and Waveney ICB. The draft strategy has now been agreed by the Mental Health Oversight Board.
Between November 2023 and March 2024 the draft strategy is being shared with system partners and locality teams who support wellbeing for our people and communities to raise awareness and gather further comments.  
Our vision for coproduction in five years time is that the voices of people and communities are at the centre of decision-making and governance about mental health services, at every level of the Integrated Care System.
We believe co-production will lead to a culture shift towards seeing mental illness as a long term condition. From 'fixing' people to focusing on their recovery, supporting them on an ongoing basis, towards a better life.
As well as developing a strategy the co-production group is planning to produce a toolkit to help people use co-production in mental health. The final strategy and the toolkit will be published April 2024.
How will we do this and when?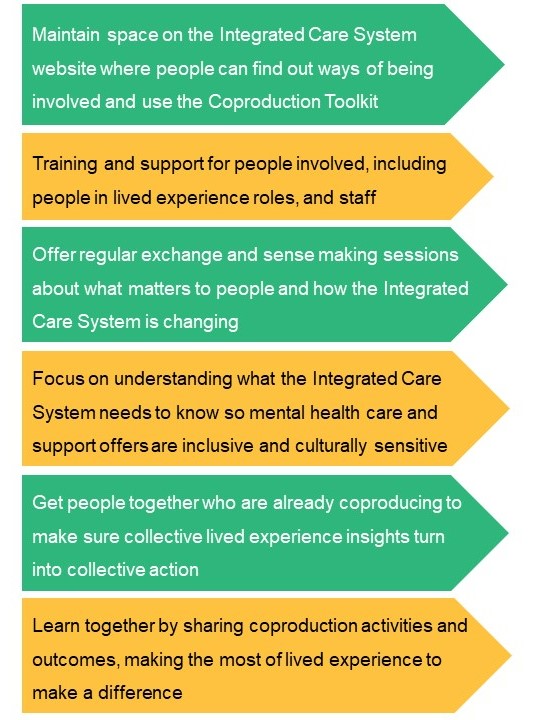 The Journey so far

The next steps