Prediabetes (also known as non-diabetic hyperglycaemia)
means that your blood sugars are higher than usual, but not high enough for you to be diagnosed with type 2 diabetes. It also means that you are at high risk of developing type 2 diabetes, however it is not inevitable, you can prevent it.
Why weight matters: pre-diabetes
•When you have pre-diabetes, there are huge benefits to losing weight if you're carrying extra weight.
•Extra weight around your waist means fat can build up around your organs, like your liver and pancreas. This can cause insulin resistance. So losing this weight could help the insulin you produce or the insulin you inject work properly.
•If you have excess weight, the more weight you lose, the greater the health benefits, but even losing just 5% of extra weight will improve your health.
•You'll have more energy and you'll reduce your risk of serious complications like heart disease and stroke. Losing weight can help with your diabetes control too.
Healthier You: NHS Diabetes Prevention Programme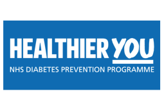 •If you have pre diabetes (also known as non-diabetic hyperglycaemia), you may be eligible for the free Healthier You: NHS Diabetes Prevention Programme this is a free behaviour change programme that helps those at risk of developing type 2 diabetes significantly reduce their chances of getting the disease. The programme helps people make behaviour changes including maintaining a healthy weight and being more active in a friendly and supportive group environment, facilitated by a specialist Health & Wellbeing Coach. Attending the programme has been shown to help prevent type 2 diabetes.
•The Programme is provided by Reed Wellbeing on behalf of the NHS in Norfolk and Waveney.
•You can choose to either attend local face to face sessions or access the programme digitally via an app on your smartphone, tablet or computer.
•How can I be referred? Your GP Practice can confirm (with a blood test) if you are at risk and refer you onto the programme.
"I must thank you so much guiding and educating me through this amazing course. I was unsure what to expect, however moving on almost a year later, I have lost almost a stone in weight, and not Pre- Diabetic. These sessions have pointed out the importance of eating the right foods and regular exercising which has now become part of my everyday routine. I now have a better understanding on how to keep myself healthy and fit by following everything you have taught us over this past year. I really do feel so much healthier now- my sincere thanks. My starting weight at the beginning of the sessions- 56.70k, my weight yesterday, our last session was – 50.35kg" Healthier You Programme Service User in Norfolk and Waveney. Service provided by Reed Wellbeing.
What else do I need to do if I have prediabetes?
•People with pre-diabetes are also recommended to have a blood test every year to monitor their blood sugar levels.
•It's very important for diabetes to be diagnosed as early as possible because it's likely to get worse if left untreated and can cause long-term health problems.