Meet the team who are here to help you with your health needs in General Practice across Norfolk and Waveney.
More information about the healthcare professionals working in the other three Primary Care services – Pharmacy, Optometry and Dentistry – will be available in the coming months.
Members of the General Practice team described below are working in general practices across our area. These team members are in place to ensure that you are seen by the most appropriate health and care professional based on your medical, health and care needs.
Sometimes, the most appropriate medical professional for you to see might not be a GP.
Across Norfolk and Waveney, more healthcare professionals are being recruited locally to work alongside GPs in wider networks of practices. Find out more about the different roles working in general practice and how they can support you.
Roles in General Practice
Reception Team / Care Navigators
Reception staff are trained Care Navigators and they are an integral part of the General Practice Team.
It is their job to ask you the right questions to make sure that you get an appointment with the right member of the healthcare team as quickly as possible.
The information you provide the Care Navigators is always treated confidentially. They will work with you to understand your clinical needs, appointment preferences, and ensure you are seen by the most appropriate member of the healthcare team.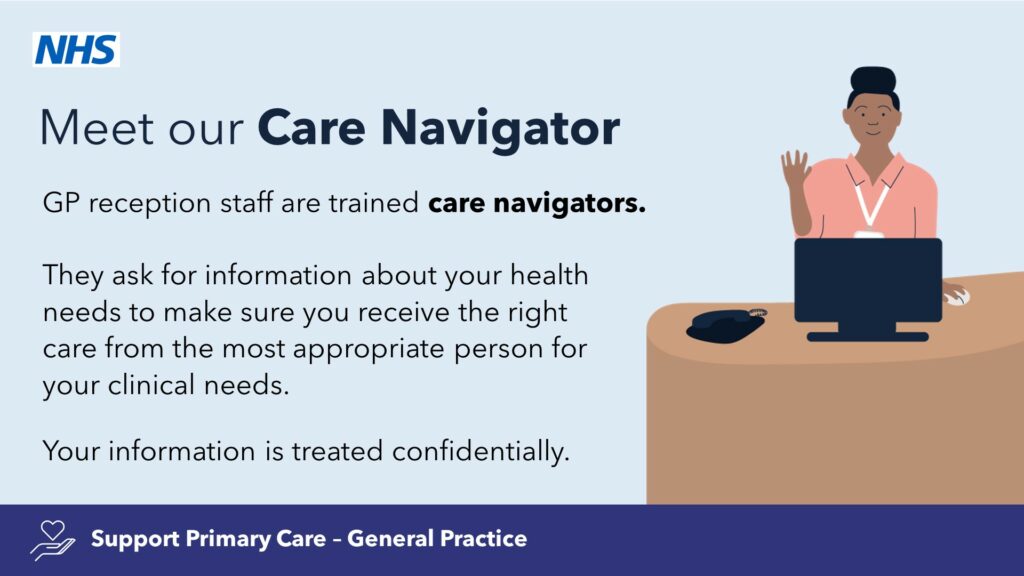 Mental Health Practitioner
These mental healthcare professionals are based in GP practices to help you with your mental health needs.
They can carry out assessments, provide advice and support to manage your condition, and support you to access mental health services and community resources.
First Contact Physiotherapist
These are Musculoskeletal (MSK) specialists that are based in GP practices to help diagnose and treat patients with muscular and joint conditions.
They can advise you on how to manage your condition, and can refer you on to specialist services if needed.
These healthcare professionals work in GP practices to help you stay on top of any health concerns.
They are highly skilled at diagnosing conditions and can perform physical examinations if needed. They can also arrange tests and analyse results quickly, explaining everything in detail before arranging follow-up appointments or treatments.
Nurses are important members of the Primary Care team. They provide vaccinations and injections, can support you with long-term conditions, and can provide family planning and sexual health advice.
These healthcare specialists are skilled in assessing, diagnosing, implementing, and evaluating treatments or interventions and care for patients presenting with an undiagnosed condition.
Depending on your needs, the advanced practitioner may be a specialist Physiotherapist, Dietitian, Podiatrist, Occupational Therapist, Paramedic, Clinical Pharmacist, or Nurse.
Care Coordinators are personalised care roles, who co-ordinate and navigate care across the health and care system. They help people make the right connections, with the right teams at the right time.
They are skilled in personalised conversations, working with you to ensure your needs are being met. They can provide information and expertise to prepare you for your clinical conversations as well.
Health and Wellbeing Coaches
These healthcare colleagues provide coaching support to help you manage your condition, work with you to identify your health and wellbeing goals, and can signpost you to helpful resources and groups.
These healthcare professionals provide clinical care to adults and children, those with learning disabilities, and those with mental health concerns.
They can perform NHS screenings, provide health and wellbeing advice, and carry out treatment room activities such as wound care and blood tests.
Paramedics provide healthcare support within GP practices. They can help you by assessing and treating certain health conditions, attending home visits, and ordering tests and interpreting results.
These link workers are based in GP practices who can support you to manage your health and wellbeing.
Social prescribers offer a person-centred conversation based around asking, "What matters to you?". They work with you to connect you with community-based services, groups and activities that meet practical, social, and emotional needs that may be affecting your health and wellbeing.  
These healthcare professionals work in GP practices. They review your medicines, agree and make changes to your prescriptions, and provide advice about medicines and possible side effects.
These healthcare professionals work alongside Clinical Pharmacists to review your existing medications. They can show you how to use your medicines as well as provide advice on lifestyle choices and other health matters.
Pharmacy Technicians are professional and knowledgeable members of the healthcare team who help you make the most of your medicines, and make sure they are right for you.