We want patients to feel confident in the ways they can access help for their health.
The NHS App has been designed to provide you with quick and easy access to many NHS services at a time that suits you. You can get healthcare advice, book GP appointments, order prescriptions, and more. Watch this short video about the NHS app.
It's free to download on Google Play or the App Store.
Get online support for your mental health
Support your mental health and wellbeing by accessing self-help materials including tips, guides, tools and activities which are available online at www.nhs.uk/mental-health/self-help
NHS 111 provides mental health support. Call 111 and select option 2 for support if you are in crisis.
Accessing general practice services
There are three ways you can get in touch with your GP surgery:
Using an online form on your GP practice's website. Most practice's online forms allow you to book routine health appointments, send enquiries to the practice, access self-help guides, request a sick note, and much more.


Call during surgery hours. Most practices in Norfolk and Waveney are open during core hours Monday to Friday, 8am-6.30pm


Visit the surgery during their opening hours
However you choose to get in touch with your surgery, you will receive a response from the practice based on your unique circumstances so you can be seen by the right member of the healthcare team for your needs.
The medical team at your practice will help you with the next step of your care, tailored to your needs: it could be a face-to-face appointment, a phone or video consultation, or a simple text or email message. These can be more flexible and often mean we can help you sooner.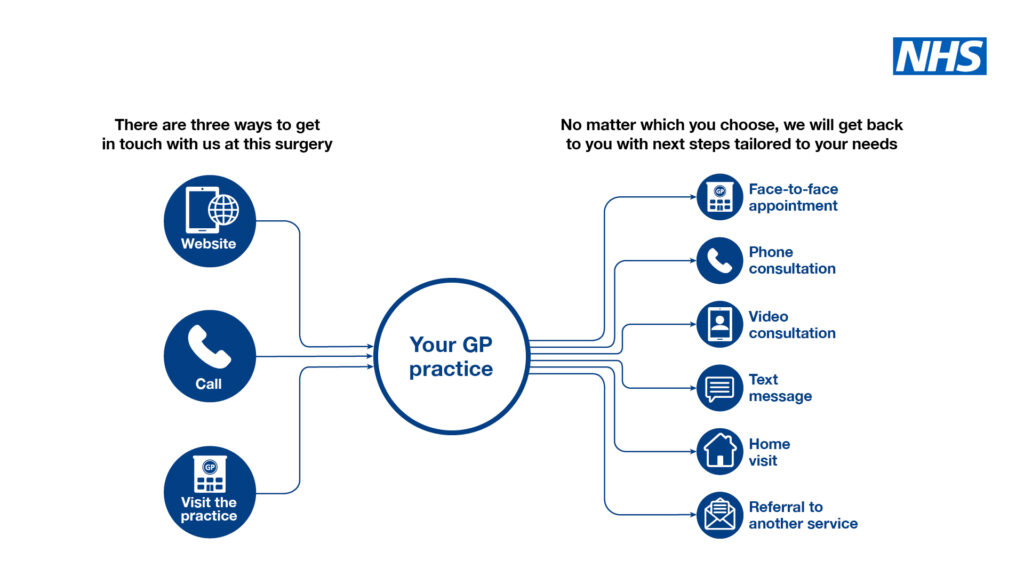 Accessing Pharmacy services
Your local pharmacy can provide quick and timely advice and help for your health, without an appointment.
answer questions about your prescription and over-the-counter medicines,

fulfil prescriptions

signpost you to alternative healthcare services if they can't help, or think your condition should be escalated
Many pharmacies offer other services too, such as asthma inhaler use and advice; blood pressure, cholesterol and blood sugar testing; and certain types of screening checks and flu vaccinations.
You can quickly find the location and list of pharmacy locations and services they provide through the NHS Find a Pharmacy website. You can find a searchable list of pharmacies that offer flu vaccinations here.
If you don't have access to the internet, you can call NHS 111 to request contact details of your nearest pharmacy, including an out-of-hours pharmacy or another NHS service in your area.
Accessing Dentistry services
If you need a dental appointment, the most appropriate clinical pathway for you to follow is through NHS 111.
They will signpost you, dependent on your needs, to a dental practice who has capacity. Alternatively, you can look at the NHS Find a Dentist website to search for dental practices in your area and contact them directly.
Patients can approach any NHS dental practice and request care; however, it is important to note that many NHS dental practices have a waiting list of patients who require dental care.
Accessing Optometry services
You can search for an Optometrist in Norfolk and Waveney through the NHS Find an Optician website, and also find out more information about eye tests, glasses repair, and laser surgery on the NHS.