Our JFP has two timescales, the immediate priorities that Norfolk and Waveney ICS confirmed to NHS England to meet national NHS planning requirements, and the longer-term improvements captured in our eight ambitions.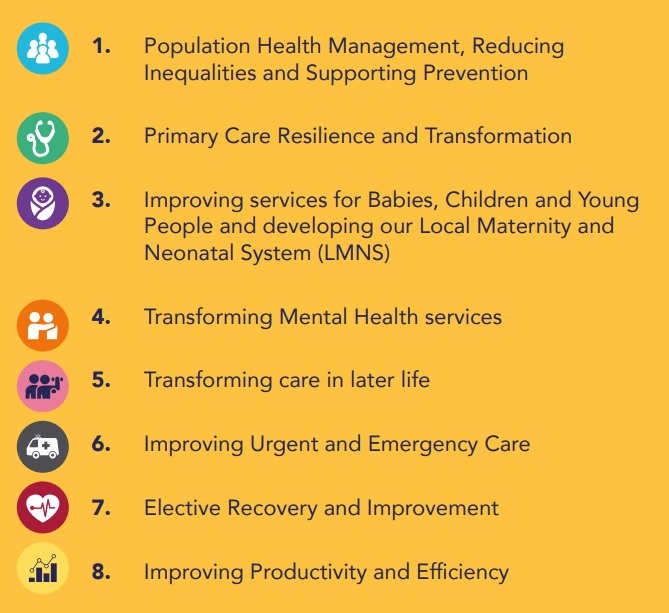 Our eight ambitions are evidence based and consistent with what we heard from our public engagement. They contain a clear focus on planning ahead to make improvements and to get ahead of the curve with prevention. We have also looked at our local population across the course of an entire lifetime, from conception to end of life, to examine outcomes to inform where improvements could be made.
Our Ambitious Aims – at a glance:
Below each of our ambitions is listed showing the aims and objectives behind the work.
Ambition 1: Population Health Management (PHM), Reducing Inequalities and Supporting Prevention
"The aim is to enable all people to stay healthy by predicting and planning for health and care needs before they happen, and ideally preventing them if we can. By working together with partners across the NHS and other public services in Norfolk and Waveney we can make an even bigger difference to many of the factors that affect our health and improve the health outcomes for our population"


Ambition 2: Primary Care Resilience & Transformation
"The aim is to integrate primary care services to deliver improved access to a wider range of services from a multi-disciplinary team. This will deliver more proactive care, preventing illness and improving outcomes, for local communities closer to home."

Ambition 3: Improving Services for Babies, Children, Young People (BCYP) and developing our Local Maternity and Neonatal System (LMNS)
"Our collective Ambition is that all babies, children and young people will have the best start in life, achieved through person and family centred, high quality support to enable them to 'Flourish'. We will focus on collaborative working with system partners to promote the importance of a strong start in life for children and young people. We will prioritise the voices, needs and ambitions of children and young people so they can live their happiest, most rewarding lives and meet their potential."

Ambition 4: Transforming Mental Health Services
"Our aim is to ensure that people of all ages can access timely and responsive support for all their emotional wellbeing and mental health needs. Working together with partners across health, care, VCSE and our experts with lived experience, we will offer person centred care at an earlier stage, and provide services that are compassionate, holistic, and responsive guiding people towards better mental health".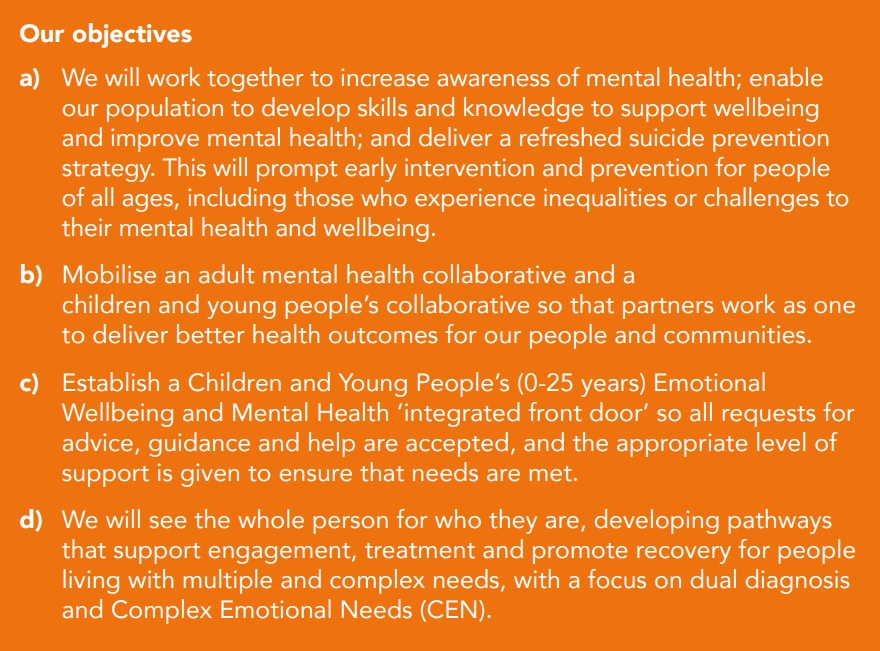 Ambition 5: Transforming Care in Later Life
"Our aim is to simplify, improve and integrate health and care for people in later life (including at the end of their life) across Norfolk and Waveney. We want to design our services with and for the people of Norfolk and Waveney, to support them to have the best possible quality of life."

Ambition 6: Improving Urgent and Emergency Care
"The aim is to ensure that the population we serve receive the right care, in the right place, at the right time. Everyone should receive the best care that meets their needs whether they access that care through their GP, 111, 999 or by walking into an Emergency Department (ED)"

Ambition 7: Elective Recovery & Improvement
"The aim is to work together to improve access and quality of elective care for the people of Norfolk and Waveney with a focus on addressing inequalities"

Ambition 8: Improving Productivity & Efficiency
"Our ambition is to change how we work with partners across the Norfolk and Waveney ICS to look at ways we can work together more effectively and become more efficient, whilst driving forward service improvements to meet the needs of our local population. It is not simply about saving money but also about delivering better services and outcomes for our patients and local communities."